Blog
𝗣𝗼𝘀𝗶𝘁𝗶𝘃𝗲 𝗙𝗲𝗲𝗱𝗯𝗮𝗰𝗸 using credentials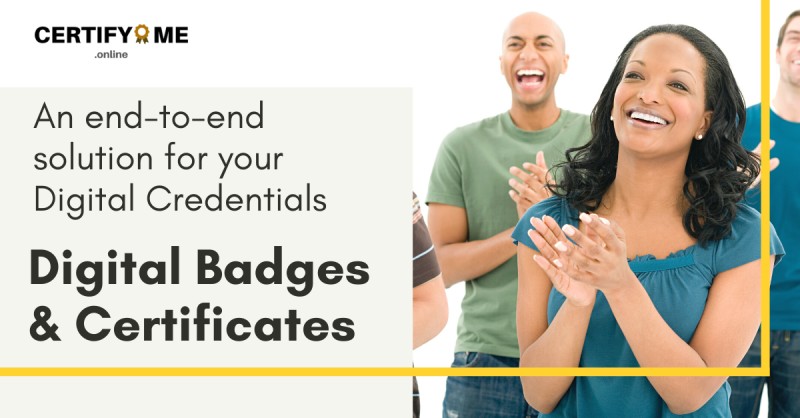 𝗣𝗼𝘀𝗶𝘁𝗶𝘃𝗲 𝗙𝗲𝗲𝗱𝗯𝗮𝗰𝗸: 𝗧𝗵𝗲 𝗦𝘂𝗽𝗲𝗿 𝗠𝗮𝗻𝘁𝗿𝗮 𝗶𝗻 𝘆𝗼𝘂𝗿 𝗪𝗼𝗿𝗸𝗽𝗹𝗮𝗰𝗲
When was the last time you received positive feedback for a job well done? How did it make you feel? You do not need to be an expert in human psychology to know that people respond well to sincere appreciation. It is an emotion we have all experienced. We feel elevated when someone takes the time to thank us for our work. That's why the most influential leaders make a habit of delivering positive feedback. They know that it's an integral part of elevating the performance of their team members.
"𝘗𝘦𝘰𝘱𝘭𝘦 𝘸𝘰𝘳𝘬 𝘧𝘰𝘳 𝘮𝘰𝘯𝘦𝘺 𝘣𝘶𝘵 𝘨𝘰 𝘵𝘩𝘦 𝘦𝘹𝘵𝘳𝘢 𝘮𝘪𝘭𝘦 𝘧𝘰𝘳 𝘳𝘦𝘤𝘰𝘨𝘯𝘪𝘵𝘪𝘰𝘯, 𝘱𝘳𝘢𝘪𝘴𝘦, 𝘢𝘯𝘥 𝘳𝘦𝘸𝘢𝘳𝘥𝘴." –𝘋𝘢𝘭𝘦 𝘊𝘢𝘳𝘯𝘦𝘨𝘪𝘦
www.certifyme.online Digital Credential Platform. Our platform enables and automates the process of issuing digital credentials whether it's for your employee's learning programs, rewards & recognition, or for events like conferences, training, etc.
We are inviting you to try our platform and as a humble gesture, we are offering 50 CREDENTIALS free. Register to avail of this offer @ https://lnkd.in/eT4b7xD
Apart from being social media sharable, our credentials are verifiable and also unlock more advertising/branding space.
Do reach out to me if I could personally handhold you during the registration process. We would be extremely proud to be associated with your firm and would love to serve you for all your digital credentials needs with a personal touch.